ELLIOT CHOUEKA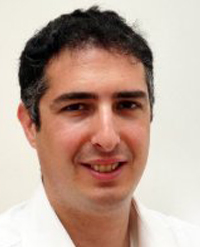 Elliot and Rosie were married for more than 10 years. They had two beautiful children, Natalie and Joseph, and were a close family. Their home was filled with laughter and love.
Rosie's breast cancer diagnosis and her 11-month battle with the disease brought Rosie and Elliot even closer. It was Rosie's wish in the final weeks of her life that a charity should be set up for secondary breast cancer research. Since her death in June 2015, Elliot's time has been devoted to raising his children, focusing on his career and ensuring Secondary1st is a success. Life as a single dad is not easy but he is helped by the support of family and great friends.
Elliot has worked in media production for 20 years. After 10 years working in news and documentaries at the B.B.C. he founded his own communications company before taking up his role as Head of Creative at Experian.
CRAIG FISHER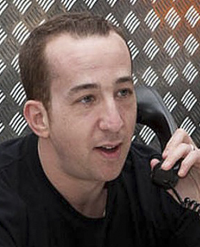 Craig and Elliot are best friends. Craig's involvement comes from his truly lovely friendship with Rosie whom he absolutely adored. He has been a partner at Technica Solutions, a London-based IT support company, since 2009. He runs the sales and marketing department.
Before joining Technica Craig ran Consultancy Store, a sales and marketing agency with a portfolio of blue chip clients. Craig's forthrightness and dedication to clients ensured that every campaign was focused on growing their business.
Craig is a passionate triathlete. He has completed 15 half marathons, two full marathons, an Olympic triathlon and a half Ironman. He has raised approximately £250,000 for various charities over the years.
Craig's first passion is his family, he is married to Amanda and he has 3 wonderful children, Libby and twins Joshua and Gabriella and 2 step-children Ella and Ollie which makes for a very busy household at times but he wouldn't have it any other way.
MARALYN KALMAN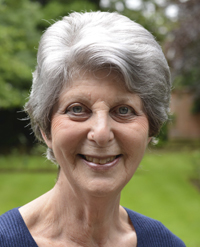 Maralyn is Rosie's mother.
She read French with Latin at King's College London before joining the advertising agency Leo Burnett as an account executive working on big-brand toiletries and new product development for a major pharmaceutical company.
At the time she had to choose between career and family. She chose to look after her family and raise her children, Rosie and Laurence.
Maralyn has undertaken several voluntary roles over the years. These include working in a school library, helping to raise funds to buy medical equipment and running a charity appeal.
She was diagnosed with triple negative breast cancer in 2009 and was treated by Mr. Al-Dubaisi and Dr. Ostler, both of whom were consulted by Rosie five years later.
JEFFREY KALMAN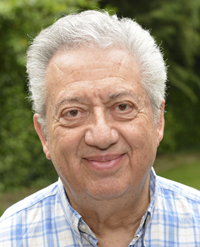 Jeffrey is Rosie's father. He qualified as a chartered accountant in 1967. He spent 30 years in commercial roles, the majority of which were in publishing. These included market-leading consumer and business magazines and legal publishing.
He was closely involved in copyright protection, which resulted in a landmark case at the European Court of Justice. This was the spark that lit Rosie's interest in competition law when she was a teenager.
Since retiring in 2001 Jeffrey has been a trustee of an inner city charity and has had major roles in several community organisations.
LAURENCE KALMAN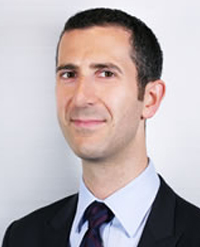 Laurence is Rosie's brother.
He is a solicitor specialising in large-scale commercial and technology transactions.
Laurence is a partner in the CMS commercial team.  He advises on the IP and business separation aspects of mergers and acquisitions transactions and on the exploitation of intellectual property rights.
Laurence trained and qualified at Freshfields Bruckhaus Deringer.
Before becoming a lawyer, Laurence graduated from Merton College, University of Oxford with a double first in history.
HANNAH RUSSELL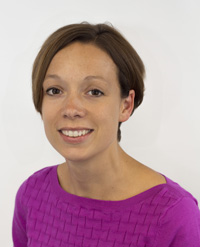 Rosie and Hannah were best friends for more than 25 years.
Hannah is Director of Society Programmes at the Biochemical Society and has spent many years working in the field of biological and biomedical science.
She has a degree in Biological Sciences from the University of Oxford and a PGCE from the University of Cambridge. She was trained as a secondary science teacher and worked for several years at the Wellcome Trust.
Hannah was also diagnosed with breast cancer. Her hope for Secondary1st is that it will raise enough awareness and money for research so that families of breast cancer sufferers do not have to face the agony of losing their loved ones.
MARCIE SHAOUL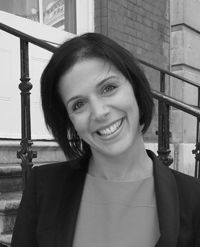 Marcie and Rosie were good friends. Rosie gave Marcie invaluable support in her personal life.
Marcie has worked in communications for the non-profit and international development sectors for 15 years. She specialises in crisis communications and setting strategic directions for new or existing communications teams.
She is currently leading the World Health Organisation's communications project on HIV drug resistance.
Marcie has previously led international training projects that have increased the ability of regional aid organizations to communicate their vital work with the public in West Africa, East Africa, the South Pacific and India. She has extensive experience working with a broad range of stakeholders in government, civil society and the private sector.
PAT TREACY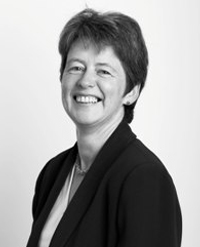 Pat is Head of Competition at Bristows LLP, the practice area in which Rosie was a partner: they worked closely together.
Pat read law at Cambridge University and qualified as a solicitor in 1986.  She became a partner at Bristows LLP in 1996.  She specialises in European Union law and competition law, and advises on the complex legal and policy issues arising where competition law and intellectual property law intersect.
She lectures and writes widely, and teaches the competition law module on the University of Oxford Postgraduate Diploma in Intellectual Property Law and Practice course.
Pat has recently been appointed Deputy High Court Judge and will sit in the Chancery Division.
DAVID GRIEF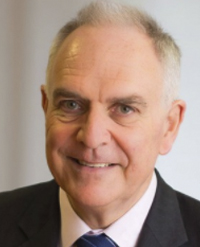 David Grief is a Senior Clerk at Essex Court Chambers and is considered one of the first generation of the modern Clerk. With a career spanning almost 45 years, he is one of the most experienced in his field. As Senior Clerk, the primary focus of David's role is to work closely with senior members of chambers to drive business and play a key role in its strategic development.
In 2007, David's wife, Joanne, was diagnosed with breast cancer and bravely fought the disease for 10 years. Sadly, Joanne passed away in 2017 leaving David and their courageous three children behind. Since Joanne's passing, David has dedicated himself to supporting his family and fundraising in her memory. Such endeavours include republishing Joanne's successful cookbook in aid of the Hospice in the Weald, who made Joanne comfortable in her final days, and cycling 140 miles to Amsterdam on behalf of Secondary1st.
Eternally grateful for the support he and his family received throughout Joanne's treatment, David is delighted to bring his expert knowledge and years of experience to Secondary1st, as he joins its Board of Trustees to ensure its continued success in raising funds for secondary breast cancer research.
Subscribe‌ to‌ newsletter
Keep‌ up‌ to‌ date‌ on‌ Secondary1st‌ news‌ and‌ breast‌ cancer‌ research.