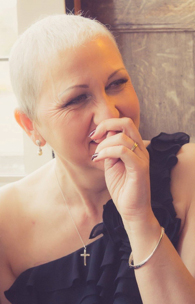 Pauline's story: "Let the tears come, as they will! Try to let people in, to help support you"
Pauline lives in West Sussex; she is married to Carl and they have two children. She was diagnosed with breast cancer in 2013.
"Let the tears come, as they will! Try to let people in, to help support you"
My name is Pauline, I live in West Sussex and am married to Carl. We have two children, Pete who is 25 and Cat who is 24. I have mostly worked in, or been connected to, Gatwick Airport, British Airways and Virgin Atlantic, so have had the privilege of travelling to some lovely places and have made some amazing memories. We have three English Cocker Spaniels, who basically run our lives. I am now retired (due to diagnosis and treatment) which opened the door to many talents I didn't even know I had! Glass painting, sewing, crochet and knitting. Hubby and I have recently joined a bowls club and are about the youngest there, it's great fun.
Tell us the story of your experience with breast cancer including when you were diagnosed with primary and secondary breast cancer and what treatment you have had so far.
When having a shower one sunny morning in June 2013 at the age of 51 , I noticed a lump in my left breast.
I went straight to the GP who sent me straight to the breast clinic at my local hospital. It turned out to be a very long day. I was with Carl sitting reading a House Beautiful magazine, I remember it was full of Christmas ideas. It seems synonymous that hospitals have years-old magazines and it was 30 degree heat outside. Anyway I was called in and a man and a nurse looked at me and asked to see 'the lump'. He felt the lump on the left breast and then checked the right one. I then lay on a bed so he could do an ultrasound scan, He then said I need to do a few needle biopsies which were pretty okay.
"You have Breast Cancer and it's a big tumour around 7cm. You can come back later today to get the results but they will be positive so you can go tell your family if you like and we will see you in a week or so." POW! just like that I had Cancer.
Later that evening we went back for the results and they were exactly as he had told me, I was scheduled for surgery first, a radical mastectomy. I had had operations before, albeit for gynaecology, So I knew the hospital routine and was fairly relaxed about it all. It took a while to recover from such a big op as they took all my lymph nodes from my left arm. 16 in all – 14 of which turned out to be cancerous, HER2+ and low Hormone Positive. After a very long full body MRI, It was discovered the cancer had matastersiesed in my bones . They described it like someone had got some pebbles and just thrown them at me, They were scattered all over the neck, ribs and spine. So now, after one round of FEC used as a first line treatment for primary ladies, I was officially a secondary lady!
This changed everything. I had six rounds of Docetaxel, Herceptin, Perjeta, Zometa and Exemestane. I was then zapped for four weeks every day with Radiotherapy. I felt pretty dire but managed to get it done. I then stayed on Herceptin, Perjeta and Zometa for about two years. Not long after I started to develop a tummy so big and bloated, I nearly didn't fit in the car. They diagnosed ascites and recommended Kadcyla (TDM1). I took this for three months and it was not a good one for me. I just couldn't tolerate it , my Liver suffered badly and even though I rested from it for a couple of cycles my Liver was still in a bad way. We went back to Herceptin.
What treatment are you having at the moment?
I have just had my 24th Herceptin subcutaneously.In addition Exemestane every day and Zometa every 12 weeks. I also need other drugs to settle some side effects.
How are you doing now? Where are you in your journey with secondary breast cancer?
When I meet new people, I don't tell them about my illness. It's so nice just to be me, and not defined by my illness. It's my way of taking control.
What has been your biggest challenge on this journey and how have you tackled it?
That was the change of treatment to TDM1 and then finding I could not tolerate it. I was really worried about what was next, I felt I was running out of options. I just said – right  I'm going home to sleep on all this, and when the answer comes to me I'll get back to my team. A few weeks later when my head was clearer I told the team I wanted Herceptin. I could do this, as Herceptin had been continuous (Kadcyla uses Herceptin to carry it around). I also signed over some tumour for testing for a drugs trial of ONT380 .
How has your secondary breast cancer diagnosis changed your perspective or outlook?
At first I was panicking, I thought I'd die quickly. As time went on it was the little things I took control over that made me feel better. Diet was a big one as well as skin care, additionally choosing not to drink alcohol. I made sure my nails got done, and my hair – as it was growing back – was cut and dyed. I bought new clothes. Mentally I needed support, I took up yoga, meditation and relaxation classes.
I had always had a faith and it helped a great deal, I took time out for me. Living everyday like it was my last was totally exhausting, So I find something fabulous everyday it might be a snowdrop in January, or a butterfly in June but I've seen it and those things I treasure.
What advice would you give someone who has just been diagnosed with secondary breast cancer?
Let the tears come, as they will! Try to let people in to help support you.
What advice would you give their friends, family and colleagues?
Have patience! Make sure you let them talk as much or as little as they want to. Just be there, don't try to fix everything or use platitudes. Make time, when appropriate, for things to do that have nothing whatsoever to do with cancer. Laugh, watch comedies, go for a spa day. Do daft things, enjoy a day out at the beach in the rain, have your own silent disco, go to see a play or musical you'd always planned to but never got to.
Where have you turned for help and support and what has helped you?
Yoga and meditation. My local hospice for counselling, complementary treatments, hand massages, facials, hair dos. A couple of Facebook support groups for secondary cancer have been helpful.
Why do you support Secondary1st?
I had contact with Rosie on a Facebook support group, she knew so much, I learnt a lot from her. We need a secondaries charity to support research into how cancer spreads and why. Not enough is available for people with secondary breast cancer. Especially triple negative.
What sort of content would you like to see on our Facebook page?
I'd like to see links to current studies around the world that are taking place for secondary breast cancer. The NHS is not the only course for people to take.