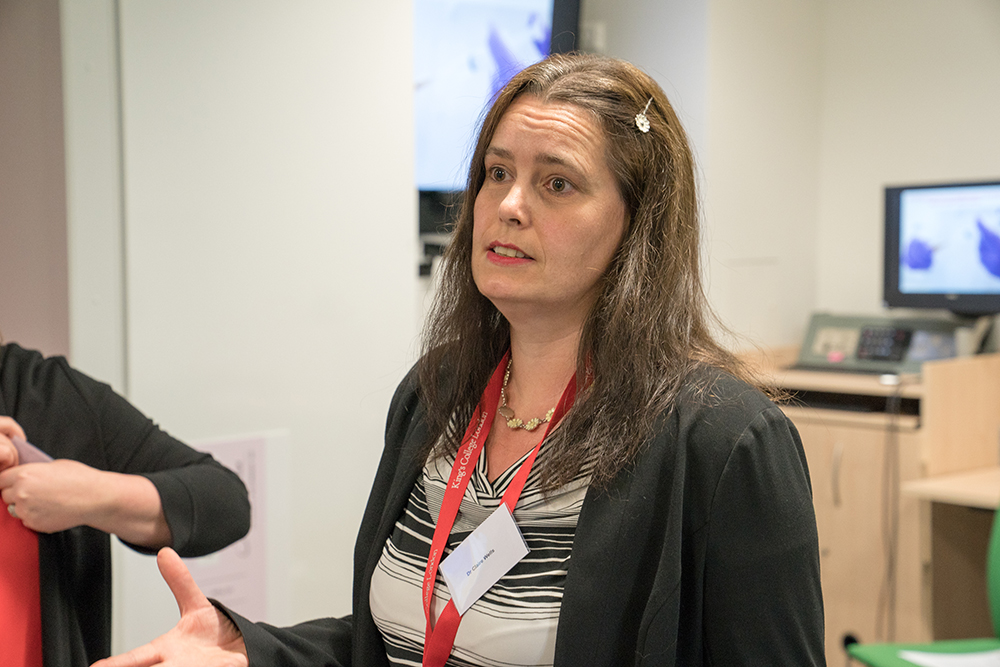 Report from Dr Wells

Dr Wells and her Research Associate Dr Michaela Lesjak, this year's Secondary1st Researcher, are dedicated to unravelling the complex cellular process that drives breast cancer to spread. They want to identify the interactions happening inside cancer cells that promote their ability to move and invade other tissues. This means they are interested in finding the proteins inside the cell whose activity either makes a cell move or can cause a cell to release other proteins that digest the surrounding tissue. By digesting the tissue around the tumour, cancer cells then have more space to move away and spread to new places.
Three years ago, the team found that a protein called PAK4 has an important role in helping triple negative breast cancer cells to move. This was exciting because PAK4 is the kind of protein that can be easily drugged to stop its activity. The team knew that PAK4 was important and we had some evidence to suggest that PAK4 was not working alone. They suspected that another protein called RhoU was in partnership with PAK4, and that together they could help cancer cells to move. At that time, the team didn't know very much about this partnership or if it was also important for digesting tissue.
Fast forward three years and the team have made significant progress. Through the vital work undertaken by Dr Lesjak, the team can now show that PAK4 and RhoU are very important for digesting tissue. They have also significantly advanced their understanding of the partnership between PAK4 and RhoU and have realised that this is not just a pair of proteins, but a whole group working together. The team now think RhoU has a really key role in this protein group, sitting in the middle and helping its protein partners to make cells move and invade tissue.
These new partnerships have never been reported before and the team are hugely excited to better understand how they are all working together to promote cancer spread.
The work of Dr Wells and Dr Lesjak is ongoing and the next step is to do more biochemical work to determine exactly how PAK, RhoU and the other proteins in the group manage to run all these different activities. When they figure this out they will have lots of pressure points that we can think about targeting with drugs to prevent cancer spread.
The vital work undertaken by Dr Lesjak under the supervision of Dr Wells has been hugely important in helping the team to better understand the role of these proteins in breast cancer spread with the hope that in the future they can gain a better understanding of which patients are more likely to be at risk from their cancer spreading and ultimately save lives.