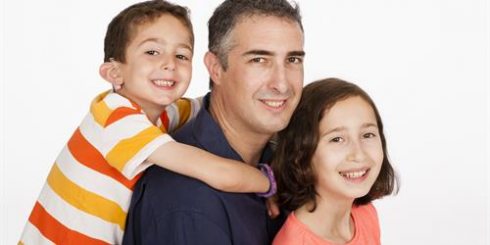 Charity efforts provide hope as family adapts to mum's death
Elliot Choueka is in his kitchen. The table is a jumble of paperwork, a laptop and his phone, which flashes and beeps every few minutes.
Behind the father-of-two is a noticeboard full of his children's achievements and reminders written in chalk to pack their PE clothes.
He used to share the responsibility for remembering these things with his wife but today, as he prepares Friday night dinner, he is on his own.
Mr Choueka lost his wife, Rosie, whose blog about battling breast cancer captured national attention, in June last year. Tomorrow would have been her 40th birthday.
He is slowly getting used to the reality of being a widowed father.
"It sometimes feels like 15 years and sometimes times it feels like it has been five minutes," since he lost the love of his life, he says.
Two loaves of challah are resting on the sideboard and he rushes from cupboard to cupboard to season two salmon fillets for his children, Joseph, five, and Natalie, eight.
"I am a lot more with it now," he says, turning on the oven and answering an email on his mobile.
"I am getting used to my situation. It is not particularly easy but you get used to it."
'It' is continuing to care for his two children which motivates him.
He says: "Joey often says: 'I miss Mummy.' Of course he does; we all do.
"I lost my dad when I was 15, so I kind of have an understanding of what it is like for my children and I think they are a massive factor in helping me get up in the morning.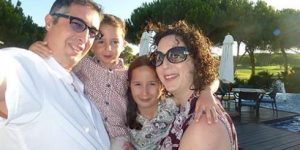 "Without them, in the first few months it might have been a different matter, but it wasn't and I'm here to tell the tale."
Rosie, 38, was a lawyer from north-west London. She was diagnosed with terminal cancer in 2014.
She attracted a large following as she blogged throughout her illness and hoped recording her experience would help to raise awareness of breast cancer.
Before she passed away, Mr Choueka says she made a handful of requests, one of which was to set up a charity funding secondary breast cancer research, so others like her could survive.
"What Rosie said, you did," Mr Choueka explains."She was a very brave and determined woman."
The charity, Secondary1st, which launched in June, has since raised £65,000 which will go to the Breast Cancer Now charity.
Mr Choueka, a former BBC producer, says: "It has been challenging setting it up. Our first meeting was here in the house, in August last year. Close family and friends helped me and we are all doing it voluntarily.
"Rosie's dad said he wanted the charity to be something to outlive him, for it to be a legacy. I think that is very powerful."
Getting up to take the salmon out of the oven, Mr Choueka explains the importance of keeping his late wife's memory alive as the family mark what would have been her milestone birthday.
"Rosie is talked about all the time, there are photos of her everywhere. She is a daily part of our lives, and that is our coping mechanism, to carry on with our lives.
"We began a campaign last month – '40 things you didn't know about secondary breast cancer' – using the hashtag #40forRosie."
While the family will not be able to celebrate with the day trip to Paris that Rosie had hoped would mark her birthday, Mr Choueka believes the awareness-raising efforts would have pleased her.
"There are no cures for secondary breast cancer," he says. "It can be managed so the progression can be slowed down but it kills eventually and Rosie wanted to change that."
Mr Choueka recalls what it was like receiving the "devastating" news of her prognosis, and says nothing can prepare you for it.
"We knew it was bad because hers was the last appointment in the evening and all the team were there.
"We cried for a day after. I remember saying to her oncologist, Professor David Miles, that I didn't expect to see the look that was on his face. He had been doing his job for 30 years and he was still as shocked as we were."
Adjusting to life on his own has not been easy for the 41-year-old, despite having what he describes as an amazing and supportive network of family and friends.
He says: "There were a couple of things I found very hard to begin with and they sound very trivial. But I could not watch TV after Rosie died, because we did that together.
"We would watch Bake Off or University Challenge and I could not bring myself to watch them anymore.
"I used to do a lot of cooking but it is hard to cook for one when you've cooked for two for 12 years."
Despite the help of a nanny, who had been with the couple since before Rosie died, he has been overwhelmed by chores which were once evenly split between the pair.
He says: "We had a partnership with an equal division of labour. Now I'm doing everything. The first few months and year has been challenging but you do just have to get on with it."
Mr Choueka often has to "think about what Rosie would do," especially when it comes to making decisions about the children's education.
"My son is deaf and he has a statement of special needs and I've had to take on the bureaucracy around that. Rosie was very good at dealing with that because she was a lawyer. Joey wanted to join the chess club recently but he was also at the same time going to a counsellor. I could imagine Rosie saying 'give him a chance, it is not going to do him any harm'. And she would be right – they are still children at the end of the day and they should have their childhood."
His wife was also "explicit" in insisting he does not spend the rest of his life alone.
"Eventually she wanted me to find a partner and remarry. She was very clear about that. She really was an amazing woman."
Mr Choueka hopes the charity might be able to offer advice to fathers who have lost their partners, as he has noticed a lack of support is available for others in his situation.
"I have met men who have been through it themselves and they have offered me support and advice.
"And since then I have done the same for people who have contacted me. But it has happened organically – there isn't anywhere we can go."
This article was first published in on thejc.com (13 Oct) and is written by Rosa Doherty.