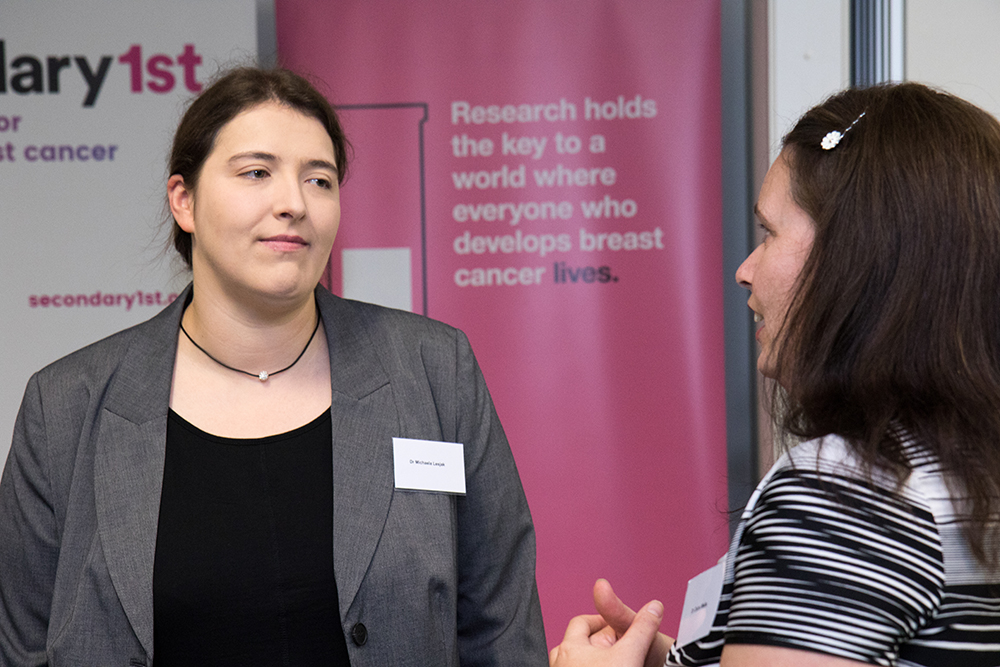 Meet Michaela, Our Secondary1st Researcher
Dr Michaela Lesjak is our Secondary1st Researcher, working in Dr Claire Wells' lab at King's College London. Funded by a Secondary1st grant, Dr Lesjak will investigate how breast cancer cells break away from the primary tumour, invade into the surrounding tissue and then spread through the body to other major organs, where they eventually form metastases. In particular the research aims to pinpoint exactly how two molecules, RhoU and PAK4 'hold hands' and help breast cancer cells to metastasise. We hope this will lead to new ways to predict, prevent and control the spread of breast cancer.
What inspired you to work in this field?
Working in natural sciences has always been exciting to me, because it remains challenging. There are still more answers to find, other problems to solve or new applications to develop. I specialised in biology and chemistry at school and then went on to study biochemistry at the Ruhr University Bochum in Germany in 2005 – I loved it! I even filled any spare hours I had between university lectures with extra courses on related topics to develop an interdisciplinary background. I went on to specialise in molecular medicine, because I knew I wanted to work in a medical context. Since I wanted to understand the molecular mechanisms of diseases in depth, I thought working in the lab would suit me better than becoming a medical doctor.
How did you come to apply for the post in Dr Claire Wells' team?
I started working in the field of metastasis during my Master thesis in 2009, so for the last 8 years this has been the main interest of my research. During my PhD at the Leibniz Research Centre for Working Environment and Human Factors (IfADo), I went on to characterise the protein EDI3, which had not been described in the literature before. EDI3 is highly expressed in metastasising cancers and associated with worse prognosis; it has a major impact on cellular migration and spreading. I applied for the post in Claire's team, because I wanted to use my previous knowledge and continue doing similar research, but I also wanted to gain more experience and learn new things. I am now focused on the process of breast cancer invasion, how that takes place on a molecular level and which roles certain proteins play in it. I came to London from Germany for this post, having never lived abroad before or knowing anyone in London. Claire had the idea for this project, secured the funding, I applied, and here I am!
How will your research in the Wells lab help breast cancer patients?
We think the PAK family of proteins are key drivers of breast cancer cell movement. We will be working to understand how PAK4 might interact with a protein called RhoU, because we think that together these proteins are able to help breast cancer cells dissolve tissue and move towards blood vessels. We want to see if we can stop these proteins from working together, and if this can prevent breast cancer cells from moving. Ultimately we hope to be able to develop a drug that can be used in the clinic to stop cancer cells from moving and therefore prevent secondary breast cancer altogether. To assist us with this research, we will also be gathering tissue samples from various stages of breast cancer tumours to investigate the different protein expression levels in these tumours. This will help us understand how the proteins evolve and mutate in the human body.
What are the challenges of the role?
Cancer biology is one of the most competitive research fields, both for securing funding and also in terms of publishing research findings. Within oncology, primary breast cancer tends to get more focus – unfortunately it is actually very difficult to achieve funding for secondary cancer projects, and this is a big part of Claire's role. Personally, I feel the pressure to deliver on our research goals – I know that the money that funds my post is limited requiring me to move on afterwards, and this uncertainty is always on my mind.
What motivates you?
I am passionate about making a difference and I try to do my best to achieve it. I am hugely motivated by the idea of finding something new that has not been discovered before, that can make a difference to people's lives. I spend most of my time in the lab, but hearing patients talk about their experience is really eye opening. Also no two days are the same, which makes my job very interesting.